From the machine defects we have seen, plus human error, I can tell you…
Let's get straight to the point. There are 2 main issues people are having with Popper. The first might sound minor but can be annoying to fix:
The Fan Speed Knob.
The shaft for the Fan Speed knob is shorter than the Heat knob, and it clicks into 3 positions: Off – Low – High. The travel from one end to the other is 90 degrees or so. In contrast the Heat knob has no click stops, has a fluid adjustment, and travels 180 degrees.
People are turning the Fan Speed knob too roughly, past the stop positions, and the knob internals flex and can break. At first it will start to feel "soft" but in time it can spin freely on the post. (Note that the post is fine and the function is fine … it's just the knob is no longer turning the post).
The problem is this knob doesn't just pull off so you can get at the post and turn it directly. To remove the knob you have to unscrew the base and some of the internals. It's about 12 screws and takes about 15 minutes to open it up, replace the knob (or just remove it so you can turn the post directly), and put it back together.
We have some spare used knobs we are scraping together to offer if you want to fix it back to original. But you will still need to remember to be more gentle with the click stops on the Fan Speed knob or its just going to happen again.
I have a unit with 100 + roasts and another with 80, and believe me, if you turn it with a lighter touch you will have no issues.
The Fan Motor
We are having some defect units come back due to the fan motor issue. If you experience this, you will hear the fan motor speed vary erratically, higher and lower, while it is roasting a batch or cooling. In time the fan motor could seize up completely, and stop turning.
If this happens when you are roasting, definitely unplug the machine from the wall. We can replace your defective machine, but we can't help with the smell and smoke if you aren't there to yank that power cord!
As with any coffee roaster, you should never leave the machine unattended while roasting. That's true at a local roastery shop, a giant wholesale roaster, or you and your tiny Popper. Stay by your machine when it's in use!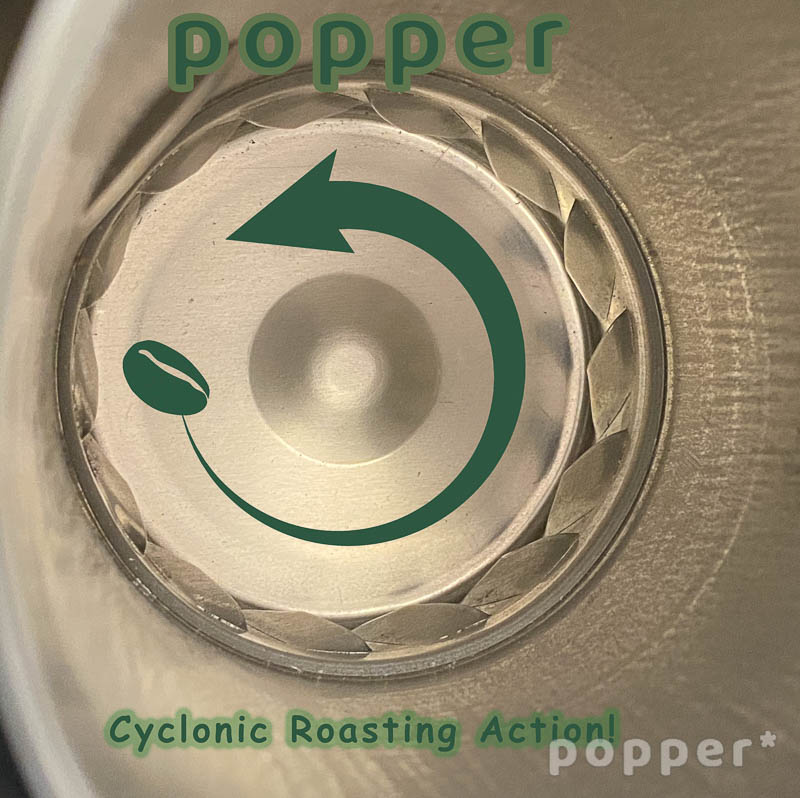 DOA Machines
We have had about 8 machines (out of 1600) that arrive and have no functioning heat. The fan blows cold. We will send you a new one right away and a UPS tag to send back the DOA unit so we can study it. Every type of appliance has a normal assembly defect rate. Popper has been extremely low so far. But it happens. We will make it right.
Human Error
Well, there's a wide range of issues here. We have received a few returns that are definitely not a machine issue, but usually someone who doesn't understand roasting well. But to address a few:
Roasting does create some smoke. That is normal
The roast chamber will discolor in time. That is normal. Popper's tends to discolor more on one side of the bottom, then eventually the whole bottom.
You should clean your hood and chaff basket. You need to empty the chaff between EVERY roast. Otherwise too much heat backs up. You can use a dry brush to get rid of the fine particles too. Between sessions you can wash it in warm water with soap (no abrasives) to maintain clarity so you can see your roast.
Popper is not really the best for full-on French and Italian roast. We say that up front in the product review. It's best for City to Full City. Most air roasters aren't for super dark roasting. Stovetop roasting is better for that.
If you drop the top and the chaff basket separates, you need to find the small metal ferrule and the spring. It is not too hard to re-attach. One side has a plastic nub, the other the ferrule and spring. See this. You can also DIY repair with a small screw if you can't find the ferrule or spring.
Again, never leave any coffee roaster unattended while in use. Setting a phone timer and walking away is NOT good enough. Things can happen. Coffee roasting is not like bread toasting. Don't walk away!